13 FUNCTION IN ONE
Scissors; Glass breaker; Flat screwdriver; Saw; Phillips screwdriver; Threader; Tweezer; Awl; Can opener; Bottle opener; Knife; Nail file; Rule.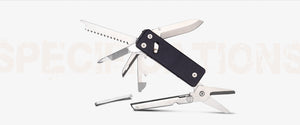 FOLDING SCISSORS
Inside strong spring loaded with good flexibility.With comfortable handle to handle daily life easily.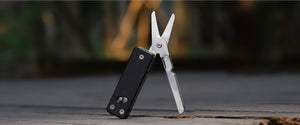 ONE HAND DEPLOYMENT
Each tool could be opened with one hand, also with lock function to fix it for keeping safe after opening.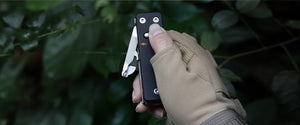 EXTENDED BIT SET
The bits group needs to be purchased additional.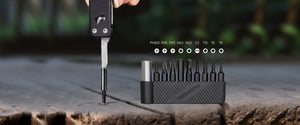 WINDOW BREAKER
Hardness up to 90HRC,it may qualified to break the window when emergency.Rounded smooth design,it may avoid scratching.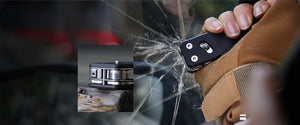 SPECIFICATIONS
· Closed size: 86.5x25.6x20 mm · Open size: 137.6x95x20 mm
· Weight: 125.1 g · Warranty: 10 years
· Materials:5Cr15MoV(Knife、Scissors), 3Cr13, 3Cr13、G10.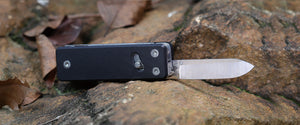 WARRANTY

Experience peace of mind with our lifetime manufacturer warranty, providing comprehensive protection against any factory defects or user errors. Whether it's a flaw in craftsmanship or an accidental mishap, we've got you covered. Invest confidently in our products, knowing that we're dedicated to ensuring your satisfaction for a lifetime.
SHIPPING

SHIPPING OPTIONS:

FREE SHIPPING IN USA ON ORDERS OVER $75
USPS WILL BE USED FOR ALL STANDARD ORDERS
WE ONLY OFFER SHIPPING TO THE UNITED STATES

We package and ship orders very fast. All online orders are processed and shipped the same day or the next day. You will get a tracking number as soon as we ship your package.

Note: (ALL ORDERS PLACED ON WEEKENDS WILL BE PROCESSED THE FOLLOWING MONDAY)
MAINTENANCE

All Roxon products are manufactured from 100% high-grade stainless steel (exception: screw bits for the tool adapter are made of tool steel). Stainless steel is not rust proof; it is corrosion-resistant. Depending on the mix of metal alloys, stainless steels may be highly corrosion-resistant and relatively soft (like kitchen flatware), or they may be somewhat corrosion-resistant and quite hard. Our products are fabricated from the latter type, so your tool components are strong, and the knives retain a sharp cutting edge.

Depending on what your Roxon Tool has been exposed to, there are several cleaning methods to consider.

Cleaning can be done with a low viscosity oil (e.g. WD-40, Liquid Wrench, CRC 3-36), which helps force out moisture trapped in the joints.
Buff stained surfaces with a polishing cloth or non-metallic abrasive (e.g. Scotchbrite pad or soft bristle brush).
For pivoting or wear areas, use a PTFE / Teflon-based lubricant to make your tool function as smoothly as possible.
If debris or sticky substances have accumulated between the blades, your Roxon Tool may also be cleaned in a mild solution of detergent and water.
To remove tar and similar substances, clean your Roxon Tool with turpentine or other mineral spirits. Warning: acetone or brake cleaners may damage plastic components.
Corrosion can occur in the absence of proper maintenance. Your Roxon Tool product should be cleaned, dried and re-lubricated periodically to inhibit rust and corrosion. This is especially true if your Roxon Tool has been exposed to salt water or marine environments. If so, rinse in fresh water, dry, and lubricate it with a light oil.